College Date Portfolios
College Date Portfolios are designed to make investing as easy as selecting the year in which the beneficiary is expected to start college. With a College Date investment option, the portfolio's investment track is automatically adjusted from more aggressive to more conservative as your beneficiary grows older (and closer to the selected college date year). Each Portfolio is powered by SPDR ETFs and features global diversification, tactical asset allocation, and utilization of passive exchange traded funds.1
Over 10 asset classes selected for broad diversification
Implementation through ETFs for target exposure
Quarterly rebalance for smooth transition between asset classes to mitigate risk
Aged-based portfolio's glide path de-risks as college matriculation approaches
No allocations to global equities and REITs starting at the period 3 years prior to college matriculation
Short duration to mitigate interest rate risk 3 years prior to college and during college years to protect against downside risk
SSGA College 2033 Portfolio
SSGA College 2030 Portfolio
SSGA College 2027 Portfolio
SSGA College 2024 Portfolio
SSGA College 2021 Portfolio
SSGA College Today Portfolio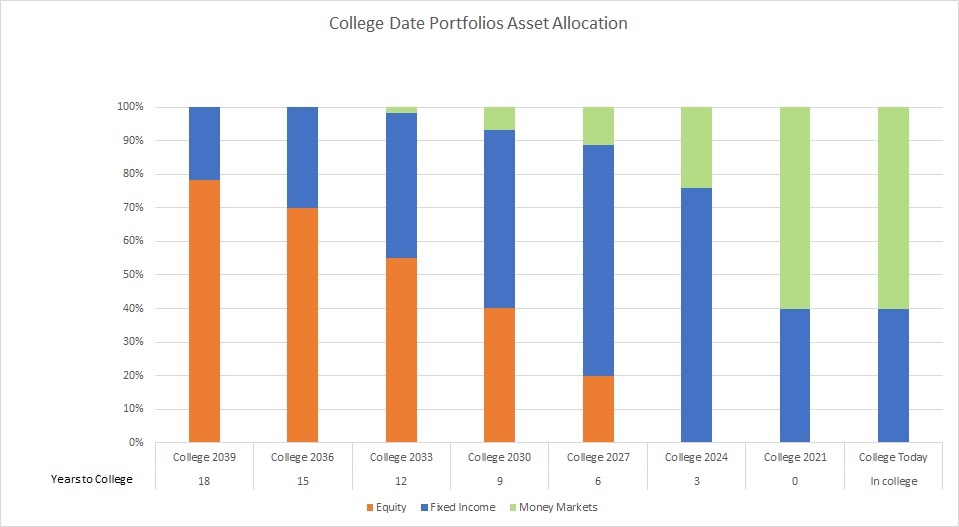 You could lose money by investing in a portfolio which includes the State Street Institutional Treasury Money Market Fund (the "underlying fund"). Although the money market fund in which your investment option invests (the "underlying fund") seeks to preserve its value at $1.00 per share, the underlying fund cannot guarantee it will do so.
An investment in this investment option is not insured or guaranteed by the Federal Deposit Insurance Corporation or any other government agency. The underlying fund's sponsor has no legal obligation to provide financial support to the underlying fund, and you should not expect that the sponsor will provide financial support to the underlying fund at any time.
Investment returns are not guaranteed, and you could lose money by investing in the SSGA Upromise 529. Investments in bonds are subject to interest rate, credit, and inflation risk.

Asset Allocation is a method of diversification which positions assets among major investment categories. Asset Allocation may be used in an effort to manage risk and enhance returns. It does not, however, guarantee a profit or protect against loss.

Diversification does not ensure a profit or guarantee against loss.

Note: Under the federal tax rules governing all 529 plans, you may reallocate your investment twice per calendar year or when you change the beneficiary on an account to a qualifying member of the family without incurring federal income tax or penalties. You may change how your future contributions are allocated at any time.
---
1Although they invest in ETFs and/or mutual funds, the SSGA Upromise 529 Plan Portfolios are not ETFs or mutual funds themselves. An account owner will own units of the portfolio, which are municipal securities, not shares of the ETFs or mutual funds.