Saving even a little can beat borrowing. While most families combine some level of savings and borrowing when paying for college, putting aside money early and often is a proven way for you to build your savings. Due to the power of compounding, saving and investing even a little each month is usually more cost-effective than borrowing money and paying interest on it.*
Finding money in your budget
Thirty dollars a month toward saving for college sounds like a lot when you look at all the other drains on your income. Think of it this way instead, $30 per month is a dollar a day. Now it might seem more manageable. Still not sure where that will come from? Skip your daily coffee, bring your lunch to work instead of buying, turn family pizza night from a night out to a fun and cost effective night in – making pizzas with the kids. No matter what splurge you cut, you'll feel good knowing that you are saving for the future.
Start a savings conversation with your child
Talking to them while they're still young can help them play an active role in making their future a success. The SSGA Upromise 529 Plan has a few tools to help.
Little by Little - a storybook about how little things can add up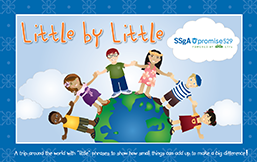 ---
A mobile app that gets kids thinking about money and what they want to do when they grow up
*A plan of regular investment cannot ensure a profit or protect against a loss in a declining market.
---