Plan Details FAQs
Overview
What is the SSGA Upromise 529 Plan?
The SSGA Upromise 529 Plan is a 529 plan—a tax-advantaged plan sponsored by individual states to encourage individuals and families to save for future higher education expenses. (The name "529" refers to Section 529 of the Internal Revenue Code of 1986, as amended, which establishes tax guidelines for this type of college savings plan.)

The SSGA Upromise 529 Plan is sponsored by the State of Nevada. Ascensus Broker Dealer Services, LLC. serves as Program Manager and has overall responsibility for the day-to-day operations of the Plan, including distribution and certain marketing services. SSGA serves as Investment Manager for the Plan, except for the Savings Portfolio which is managed by Sallie Mae Bank, and also provides or arranges certain marketing services for the Plan. Sallie Mae Bank is a Utah-state chartered industrial bank and member FDIC.

Who can open a SSGA Upromise 529 account?
The SSGA Upromise 529 Plan is available to U.S. citizens and resident aliens of legal age who want to open an account. You must have a valid Social Security number or Tax Identification number and a valid physical address within the U.S. or Puerto Rico. The student for whom you're saving (the beneficiary) can be anyone (including yourself) and must also have a valid Social Security number. There are no state residency requirements or income restrictions.

The state of Nevada sponsors the SSGA Upromise 529 Plan; however, you do not have to be a resident to participate. SSGA Upromise 529 Plan is a national plan, open to all US citizens and resident aliens across the country (see above). However, the Nevada sponsorship entitles Nevada residents to certain additional benefits.1

Where can I use my investment?
Assets in a SSGA Upromise 529 account don't have to be used just for eligible public and private 4-year colleges and universities. They can also be used at eligible trade and technical schools, graduate schools, as well as for qualifying 2-year associate degrees - anywhere in the U.S. and abroad - provided the educational institution is eligible under the rules applicable to 529 plans. Eligible educational institutions generally include all post-secondary institutions that participate in U.S. Department of Education student financial aid programs.

How much do I need to open an account?
The minimum initial investment amount is $15 for a lump sum contribution via check or a one-time Electronic Funds Transfer (EFT). You can also get started with as little as $15 per month or $45 a quarter by making recurring contributions from your bank account.2 The minimum amount for additional contributions made after opening an account is $15.

Is there a state tax deduction for SSGA Upromise 529 account contributions?
No. This plan is sponsored by the State of Nevada, which does not have a state income tax. Many states provide tax deductions for contributions to 529 plans sponsored only by that state and some states provide tax deductions for contributions to 529 plans sponsored by that state or other states.

Return to Top
Investments

What are my investment choices?
The plan offers the following investment options:
For complete details on the investment options offered by SSGA Upromise 529, please see the Plan Description and Participation Agreement.
Are investments in the SSGA Upromise 529 Plan guaranteed?
No. Investment returns will vary depending upon the performance of the Portfolios you choose. Except to the extent of the FDIC insurance available for the Savings Portfolio, depending on market conditions, you could lose all or a portion of your money by investing in the SSGA Upromise 529 Plan. Account Owners assume all investment risks as well as responsibility for any federal and state tax consequences.4

Can I make an investment change in my account?
You can change the direction of your future contributions at any time. Federal law permits you to move the assets in your SSGA Upromise 529 Plan account to a different mix of investment options up to two times per calendar year or whenever you change the account's beneficiary.

If I'm invested in any of the College Date Portfolios, do I need to do anything as my beneficiary grows older?
No. College Date Portfolios are designed to make investing as easy as selecting the year in which the beneficiary is expected to start college. With a College Date investment option, the portfolio's investment track is automatically adjusted from more aggressive to more conservative as your beneficiary grows older (and closer to the selected college date year).

Can I see a list and description of the portfolios' underlying mutual funds?
Yes. Refer to the Plan Description and Participation Agreement or go to the Investment Options section of our website.

What if I'd like to allocate part of my investment to a portfolio not listed here?
The 26 investment options offered by SSGA Upromise 529 Plan have been selected specifically for the Plan and are the only investment options available.

Where do I find information on investment performance?
You can obtain performance figures for the Plan's portfolios in the Investment Options section of this website

How is investment performance determined?
The returns displayed on the website reflect past performance, are net of all asset-based fees, and are not a guarantee of future performance. Keep in mind that you do not actually own shares in the underlying funds. Instead, you own portfolio units of the SSGA Upromise 529 Plan, which means the returns for a particular portfolio may vary from the returns of the underlying funds.

Return to Top
Financial Aid
What impact does a 529 plan have on eligibility for federal financial aid?
529 plan assets are counted at different rates for the Expected Family Contribution (EFC) in the FAFSA formula. Federal guidelines are as follows:
If the student is a dependent, a 529 plan account is considered as the parent's asset (if the account owner is the parent or the dependent student). As a result, it will generally be counted at a rate of only 5.6% of its value for the EFC.
If the student is not a dependent and is the account owner, the 529 plan account is treated as the student's asset and is generally factored into the EFC at the higher rate of 20%.
In other cases, the account does not count as an asset for federal financial aid purposes. (However, a student may have to report distributions received from the account as income for these purposes.)
Note: Financial aid programs offered by educational institutions and other non-federal sources may have their own guidelines for the treatment of 529 plan accounts. For complete information about financial aid eligibility, you should consult with a financial aid professional and/or the state or educational institution offering a particular financial aid program as the rules and regulations often change.

Return to Top
Taxes
What income tax benefits are available from an SSGA Upromise 529 Plan account?
Federal income tax-free. Earnings grow tax deferred and are free from federal income tax when used for qualified higher education expenses.5 Qualified higher education expenses include tuition, mandatory fees, books, supplies, and equipment required for enrollment or attendance at an eligible educational institution; certain room and board costs during any academic period the beneficiary is enrolled at least half-time; and certain qualified expenses for a special-needs student.
State income taxes: If you are not a Nevada taxpayer, consider whether your home state offers a 529 plan that provides its taxpayers with tax benefits not available to you through this plan. Be sure to weigh all the pros and cons of a particular plan before you choose to invest.
What are the Plan's gift- and estate-tax benefits?
Individuals may invest up to $17,000 ($34,000 for married couples) per beneficiary without assuming any gift-tax consequences. You can also contribute up to $85,000 per beneficiary in a single year ($170,000 for married couples electing to split gifts) and take advantage of five years' worth of tax-free gifts at one time.6 (Contributions are considered completed gifts and are removed from your estate, but you, as the account owner, retain control.) Upon the death of the account owner, money remaining in the account will not be included in the account owner's estate for federal estate tax purposes. For more information, consult your tax advisor or estate-planning attorney.
---
1 If you are not a Nevada taxpayer, consider before investing whether your or the designated beneficiary's home state offers any state tax or other benefits that are only available for investment in such state's qualified tuition program.
2 A plan of regular investment cannot assure a profit or protect against a loss in a declining market.
3 Diversification does not ensure a profit or guarantee against loss.
4 Except for the Savings Portfolio, investments in the SSGA Upromise 529 are not insured by the FDIC. FDIC insurance is provided for the Savings Portfolio only, which invests in an FDIC-insured omnibus savings account held in trust by the Board at Sallie Mae Bank. Contributions to and earnings on the investments in the Savings Portfolio are insured by the FDIC on a pass-through basis to each account owner up to the maximum amount set by federal law.
5 Earnings on non-qualified withdrawals are subject to federal income tax and may be subject to a 10% federal tax penalty, as well as state and local income taxes. The availability of tax and other benefits may be contingent on meeting other requirements.
6 In the event the donor does not survive the five-year period, a pro-rated amount will revert to the donor's taxable estate.
More FAQs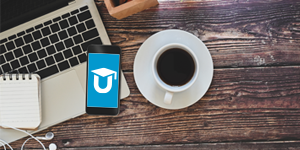 Join us Tuesday morning at 11 for our next 529 webinar.